Corporate Advisors
The Massachusetts Mortgage Bankers Association has formed a unique partnership with the Association's closest affiliate or lender member Corporate Advisors. This committee serves as the premier policy making body for the NEMBC exhibit program by interacting directly with the NEMBC Planning Committee and the MMBA Board of Directors. In addition, the Corporate Advisory Committee interacts with the Association in order to formulate programs to achieve mutual goals. Participation on the Committee has had a direct impact on the development of the application marketplace in order to obtain profitable corporate results.

Platinum Sponsors

---

Birchwood Credit Services, Inc. is the trusted source of credit reporting and compliance solutions designed for the lending industry. Our innovative products partnered with leading industry technology allows us to offer quick and easy access to the information mortgage lenders need to make accurate credit decisions. In time of uncertainty we persevere and continue to be innovative when you need us most. Birchwood will continue to make sure our clients have reliable information necessary for fully informed decision making, we work not only to support each of our clients, but the industry as a whole. Visit their website at www.birchwoodcreditservices.com.

---

For close to half a century, CATIC has protected the interests of individuals and entities who purchase and finance real estate. As New England's largest domestic title insurance underwriter, our staff and the more than 2,200 agents who issue our policies are experts in the nuances of the region's lending and real estate closing practices. It is this expertise, coupled with our financial strength and superior claims- paying ratings, that over 1,800 national, regional and local lenders have come to depend upon us when financing New England real estate. In addition, we are an active participant in our industry and community, CATIC is involved with and supports a variety of associations and charitable causes throughout New England. For more information please contact us at (860) 513-3140 or visit our website at www.catic.com.

CATICTrac provides nationwide title clearing services. Available on commercial and residential property, we can track and obtain any document need to clear or perfect a lien. From discharges and releases to assignments and POAs our service can be retained to manage a single issue or large scale portfolio projects. For more information please contact us at (800) 842-2216 ext. 3105

CentricPro Management Services, Inc., a sister company to CATIC, offers competitively priced, trusted solutions designed by legal professionals in the areas of bonds, insurance (professional liability, fidelity/crime, cyber, employment practices liability and more), independent escrow agent services and 1031 like-kind exchange services. For more information please contact us at (860) 513-3131 or visit our website at www.CentricProUSA.com.

Diamond Sponsors
---

Arch Mortgage Insurance Company (Arch MI) combines financial strength, operational excellence and easy-to-use technology to deliver exceptional service to lenders nationwide. Powered by expertise and innovation, and a member of the well-capitalized and diversified Arch Capital Group family, Arch MI is the right MI partner to support you at every level of the mortgage origination experience.
We offer:
A diverse array of specialty mortgage insurance solutions to address current and future business needs
A strong financial position that immediately meets the proposed PMIERs rules
Fast, seamless connectivity with all major industry LOS through the ArchMIConnectSM origination and servicing platform
State-of-the-art technology tools, like online Rate Quote with the "Save and Share" feature and our intuitively designed mobile app
Expect More from Arch MI. For details, visit www.archmi.com.
---

With over 60 Years of Experience, Bankers Insurance Service can provide you with risk management expertise in this a complex regulatory environment. And having relationship with Lloyd's of London for over a half century, Bankers can offer fully customizable coverage at a variety of limits to fit your specific needs like no other!
--- Data Facts, formerly SIR, is the leading provider of Credit, Appraisal, Title/Recording and Informational services designed to support the needs of Financial Institutions, and is continuing the legacy built by SIR during their 30+ year membership with the MMBA. Data Facts is active, not just in our marketplace, but nationally, with our leadership's involvement as a Director of the National Consumer Reporting Association, active in Washington D.C. including liaisons with the CFPB. We are 100% U.S. based, and require all staff members to hold FCRA certifications.
Data Facts' solutions include Credit Reporting for Consumer, Mortgage and Commercial Underwriting, unique Appraisal Management services, Independent Verifications, Alternative Title services and Background Screening services. Data Facts continues the tradition of SIR's 90+ year dedication to quality service to the lending community by keeping in step with the changes and additional requirements placed upon the financial market, while helping lenders accomplish their goals. By utilizing innovative technology, seamless LOS integrations, and our ability to create customized, flexible solutions, we help clients close more loans faster and easier. Visit www.datafacts.com to learn more.
---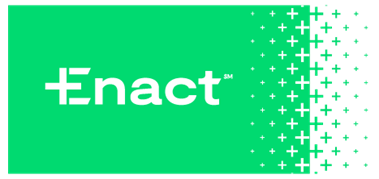 Enact, operating principally through its wholly owned subsidiary Genworth Mortgage Insurance Corporation since 1981, is a leading U.S. private mortgage insurance group committed to helping more people achieve the dream of homeownership. Building on a deep understanding of lenders' businesses and a legacy of financial strength, we partner with lenders to bring best-in class service, leading underwriting expertise, and extensive risk and capital management to the mortgage process, helping to put more people in homes and keep them there. By empowering customers and their borrowers, Enact seeks to positively impact the lives of those in the communities in which it serves in a sustainable way. Enact is headquartered in Raleigh, North Carolina. For more information, visit www.EnactMI.com.
---

At Kriss Law/Atlantic we provide professional closing services to the mortgage lending industry that are efficient, fast and reasonably priced. Kriss Law specializes in residential conveyancing throughout New England. Atlantic Closing & Escrow's reach is national. Our real estate closing professionals close anywhere, anytime throughout the country. We handle over $5 billion in transactions annually and offer resources like our Instant quote calculator and our Realtor Continuing Education program bringing lenders and realtors together. Visit us at www.krisslawatlantic.com and experience the Kriss Law/Atlantic difference.
---

Experience the Benefits of being a MERS® System Member!
The MERS® System is a national electronic database that tracks changes in mortgage servicing rights and beneficial ownership interests in loans secured by residential real estate. Two of the primary benefits of being a MERS® System Member ("Member") are Saving money (Eliminates need for certain paper assignments, thus reducing costs associated with transferring mortgage rights) and Reducing issues related to breaks of chain in the title. At closing, the borrower and lender agree to name Mortgage Electronic Registration Systems, Inc. (MERS) as mortgagee or beneficiary on the mortgage or deed of trust; The lender then records the mortgage in the county land records and registers the information about the loan on MERS® System; MERS remains mortgagee in the land records as servicing rights and notes are bought and sold between active Members. No interests are transferred on the system; they are only tracked.
What are the benefits of MERS and the MERS® System?
Eliminates breaks in the chain of title; Hard dollar savings on each loan for lenders; Identity of servicer and investor available for free to homeowners via phone or Internet; Used by lenders to find undisclosed liens; Used by governments and code enforcement officers to find companies responsible for maintaining vacant and abandoned properties, Simplifies lien releases because chain of title starts and stops with MERS; Increases efficiency in sale of loans and servicing transfers in secondary market and Uses the Mortgage Identification Number (MIN) assigned to each loan for tracking throughout the life of a loan.
MERS® eRegistry is essential to the eMortgage world
Obtain or renew your Legal Entity Identifier (LEI) with us! The process is fast, simple and paperless with our online application.
For more information, please contact: Laurinda Clemente, NE Region Director (978) 337-6892 – or via EM at: Laurindac@mersinc.org
---

MGIC is the leader in private mortgage insurance - an industry dedicated to helping people buy homes faster and easier than they otherwise could. Our website allows you to check out our rates, order MI, as well as learn more about our underwriting guidelines. You can discover more about who we are, our programs and services and newsworthy events. Simply put, at www.mgic.com you'll find MGIC and everything we can do for you.